Voted #1 on Indianapolis' Southside
3850 S. Meridian Street, Indianapolis, IN 46217
Phone: 317-784-9880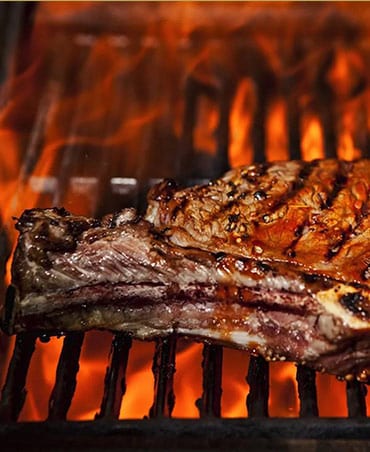 Bynum's Steakhouse in Indianapolis is a great place to come and unwind at the end of a long day.
It is located just 3 1/2 miles south of the circle on meridian street, and has been locally owned and operated for over 20 years. Second generation owner Ritchie Curry believes in providing great value for his guests who come in to spend their hard earned money, and that it is important to provide great service to go along with that great value.
Over the years, Bynum's has established a reputation as the place to come in Indy for prime rib and Madagascar lobster tails. The prime rib is a 32 ounce bone-in cut that melts in your mouth. While the most popular lobster tail is the 24 ounce (which is huge), Bynum's oft-times also has a few 40 ouncers on hand for even heartier appetites.
The steaks are hand-cut from only the best Angus Beef and are normally cut 1 1/2 to 2 inches thick, so make sure to come hungry. Each entree is served with Bynum's Onion soup, a house salad (with home-made dressings), bread and a choice of potato. No à la carte here - everything is included!
Depending on the season, Bynum's usually has 5 or 6 different freshly-made desserts, such as creme brulee, blackberry cobbler, and some of the richest, creamiest cheese cake in the universe.
Additionally, Bynum's offers several different options for those who, for some reason, want something other than steak. We have some pasta dishes, several chicken and seafood options, and some great salads as well.
When you go to Bynum's, be sure to try the jumbo shrimp cocktail, with cocktail sauce that'll clear your sinuses. It has been a house favorite for years. We also have a full-service bar with premium liquors, an excellent selection of wines, champagnes, and specialty beers.
There is something for everyone at Bynum's! With the relaxed and casual atmosphere and plenty of free parking, it's the perfect place to bring family and friends for a great dinner and a great evening.